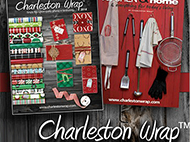 PACE kicks off its Charleston Wrap fundraiser on October 6th! Families are able to earn 40% from product sales and 30% on personalized items to put towards their fundraising obligation for the year.
Online sales begin October 6th and run through October 20th. Information on how to register your student will be emailed and distributed via the Wednesday folder on October 6th.
Items will be delivered directly to recipients within 2-4 weeks of purchase date.
If you have any questions, please contact our Charleston Fundraising coordinator, Joy Bracks King, at fallfundraising@paceatlockwood.org.