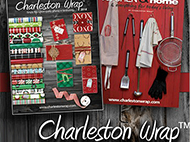 Following our Chinook Book fundraiser, PACE kicks off its Charleston Wrap fundraiser. As with Chinook, PACE members will earn 50% profit from the Gift Wrap Catalog.
The Kitchen Catalog nets us 40% and it's 30% on all personalized items and magazines.
Order forms are due by: [TBA].
Items will be delivered by [TBA] to the school and sent home with the students.
If you have questions, please contact your room parent or you may ask our Charleston Fundraising team directly at charleston@paceatlockwood.org. 
Direct Link to PACE @ Lockwood's Fundraising Area